Photos in Slide Show: Vistas from Bryce Canyon National Park. Photo, below left, shows a historic scene from Wall Street, the park's most surreal canyon.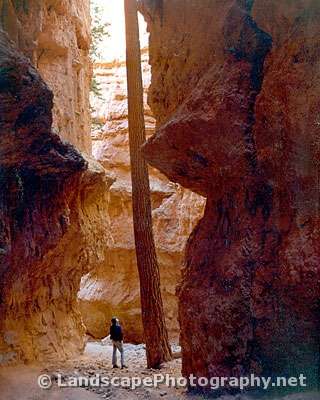 Bryce Canyon is not actually a canyon but a high elevation sandstone ridge. Million of years of exposure to the elements have created a multi-hued fairyland of fantastic spires and formations. The ever-changing color patterns brought about by time of day and varying weather conditions make the park a photographer's dream.
The park features spectacular geology, unique in the world, consisting of a series of horseshoe-shaped amphitheaters carved from the eastern edge of Utah's Paunsaugunt Plateau. The erosional force of frost-wedging and the dissolving power of rainwater has shaped the colorful limestone rock into bizarre shapes including slot canyons, windows, fins, and hoodoos. All are tinted in a wide array of rich colors. The whimsically arranged rocks create a surreal landscape of mazes, with exciting and unusual hiking trails.
[Photo, left: A Bryce Canyon National Park classic taken in 1981, the Lone Tree in the famous Wall Street slot canyon. This view was lost several years ago when a large rock slide caused the trail to be detoured. The Navajo Trail running through the canyon is prone to damaging rock falls and slides, and therefore the National Park Service must often close parts of the trail.]
Photo Tips: Most of the formations at Bryce Canyon are on the east side of the main north-south ridge. In the morning you would be facing into the sun, and photography would be difficult. The formations would probably be best for photos very late in the afternoon. The strong midday sun can wash out the views though the presence of some clouds can make for interesting compositions.