Photos in Slide Show: The Wave. Photo, below left, shows the Wave is aptly named.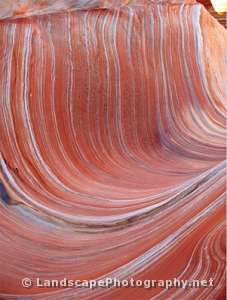 Amazing Colors and Shapes – Coyote Buttes is the name on the USGS topographic map, but there are popular names like the Wave, Teepees, Hoodoos, and Sand Cave. Coyote Buttes is an area of unparalleled beauty with surreal swirls of sandstone in multicolored hues of red, pink, orange, maroon, white, and yellow.
Located in the Vermilion Cliffs Wilderness, the North Coyote Buttes unit features The Wave, one of the world's most well-known and surreal landscapes. Twenty lucky hikers per day may visit this remote wilderness site. It is a six-mile round trip through open desert, scorching in summer and freezing in winter, without any trail. The route offers constantly spectacular scenery the whole way. Read the full story of our adventure, "The Wave in Paria Canyon-Vermilion Cliffs Wilderness", which includes information on obtaining coveted hiking permits.
The companion site to the more famous Wave, the adjacent South Coyote Buttes (next gallery) features an exciting four-wheel drive on remote roads and at-large exploration of an untrailed wilderness with equally spectacular scenery.
Photo Tips: The Wave is located at the base of a north-south ridge on its western flank. The Wave photographs best either in full shade or sun. The early morning would be best for photographing the landmarks en route. The Wave would probably be best for photos very late in the afternoon. But you would need to contend with hiking out before it gets dark. It is not advisable to try to hike out of the Wave after dark as it would be quite easy to get lost and fall from the canyon rim.
More Photos from North Coyote Buttes

Next Gallery South Coyote Buttes -or- Back to Galleries